Rusia ha Retado al Blofe de la Faccion Guerrera.

A hot war is not going to break out after Nov. 8th – thanks to shrewd moves and preparation by Moscow
Por/By Pepe Escobar
Una guerra caliente no va a ocurrir después del 8 de noviembre – gracias a movimientos astutos y preparación por parte de Moscú.
October 27, 2016 "Information Clearing House" – " RI" – Cold War 2.0 has reached unprecedented hysterical levels. And yet a hot war is not about to break out – before or after the November 8 US presidential election.
From the Clinton (cash) machine – supported by a neocon/neoliberalcon think tank/media complex – to the British establishment and its corporate media mouthpieces, the Anglo-American, self-appointed "leaders of the free world" are racking up demonization of Russia and "Putinism" to pure incandescence.
La Guerra fría 2.0 ha llegado a niveles histéricos sin precedentes. Sin embargo una guerra caliente no está a punto de estallar – antes o después de las elecciones presidenciales del 8 de noviembre.
Desde la máquina (dinero en efectivo) de Clinton, apoyado por un complejo de tanques pensantes y medios neocon/neoliberalcon – al establecimiento británico y a voceros de sus medios corporativos, los autoproclamados "lideres del mundo libre" angloamericanos,  están acumulando la demonizacion de Rusia y el "putinismo" hasta un nivel de pura incandescencia.
And yet a hot war is not about to break out – before or after the November 8 US presidential election. So many layers of fear and loathing in fact veil no more than a bluff.
A pesar de todo eso, una guerra caliente no está a punto de estallar antes o después de las elecciones presidenciales de Estados Unidos del 8 de noviembre. Tantas capas de miedo y aversión en realidad se traducen en solo un blofe.
Let's start with the Russian naval task force in Syria, led by the officially designated "heavy aircraft-carrying cruiser" Admiral Kuznetsov, which will be stationed in the eastern Mediterranean at least until February 2017, supporting operations against all strands of Salafi-jihadism.
The Admiral Kuznetsov is fully equipped with anti-ship, air defense, artillery and anti-submarine warfare systems – and can defend itself against a vast array of threats, unlike NATO vessels.
Empecemos con la fuerza de tarea rusa en Siria, liderada por el oficialmente designado"portaviones" el Admiral Kuznetsov, que estará estacionado en el este del Mediterráneo cuando menos hasta febrero de 2017, apoyando operaciones contra todo tipo de salafi-yijadismo.
El Almirante Kuznetsov esta equipado con armas anti buques, defensa aérea, artillería y sistemas de guerra antisubmarina y puede defenderse contra una amplia gama de amenazas, a diferencia de los buques de la OTAN.
Predictably, NATO is spinning with alarm that "all of the Northern Fleet", along with the Baltic Fleet, is on the way to the Mediterranean. Wrong; it's only part of the Northern Fleet, and the Baltic Fleet ships are not going anywhere.  The heart of the matter is that when the capabilities of this Russian naval task force are matched with the S-300/S-400 missile systems already deployed in Syria, Russia is now de facto rivaling the firepower of the US Sixth Fleet.
Como era de esperarse, la OTAN está denunciando con  alarma que "toda la flota del Norte", junto con la flota del Báltico, se dirige al Mediterráneo. Erróneo; se trata de sólo una parte de la flota del norte, y las naves de la flota del Báltico no se van a ninguna parte. El meollo del asunto es que cuando las capacidades de esta fuerza de tarea naval rusa se suman a  las de los sistemas de misiles S-300/S-400 ya desplegados en Siria, Rusia esta ahora de facto rivalizando la potencia de fuego de la Sexta Flota de los EEUU.
To top it off, as this comprehensive military analysis makes clear, Russia has "basically made their own no-fly zone over Syria"; and a US no-fly zone, viscerally promoted by Hillary Clinton, "is now impossible to achieve."
That should be more than enough to put into perspective the impotence transmuted into outright anger exhibited by the Pentagon and its neocon/neoliberalcon vassals.
Para colmo, como este exhaustivo análisis militar deja claro, Rusia "básicamente ha creado su propia zona de exclusión aérea sobre Siria"; y una zona de exclusión aérea de los Estados Unidos, visceral mente promovida por Hillary Clinton, "ahora es imposible de lograr."
Debe ser más que suficiente para poner en perspectiva la impotencia transmutada en absoluta ira exhibida por el Pentágono y sus vasallos neocon/neoliberalcon.
Add to it the outright war between the Pentagon and the CIA in the Syrian war theatre, where the Pentagon backs the YPG Kurds, who are not necessarily in favor of regime change in Damascus, while the CIA backs further weaponizing of "moderate", as in al-Qaeda-linked and/or infiltrated, "rebels".
Compounding the trademark Obama administration Three Stooges school of foreign policy, American threats have flown more liberally than Negan's skull-crushing bloody baton in the new season of The Walking Dead.
Añade a esto la guerra abierta entre el Pentágono y la CIA en el teatro de la guerra Siria, donde el Pentágono respalda los kurdos YPG, que no están necesariamente a favor del cambio de régimen en Damasco, mientras que la CIA apoya militarización adicional de grupos "moderados", como los vinculados con al-Qaeda o infiltrados, "rebeldes".
Agravando a la escuela de los tres chiflados de la política exterior del Presidente Obama, las amenazas estadounidenses han volado más liberalmente que el bastón rompe cabezas de Negan en la nueva serie de The Walking Dead.
Pentagon head Ash Carter, a certified neocon, has threatened "consequences", as in "potential" strikes against Syrian Arab Army (SAA) forces to "punish the regime" after the Pentagon itself broke the Kerry-Lavrov ceasefire. President Obama took some time off weighing his options. And in the end, he backed off.
So it will be up for the virtually elected – by the whole US establishment — Hillary Clinton to make the fateful decision. She won't be able to go for a no-fly zone – because Russia is already doing it. And if she decides to "punish the regime", Moscow already telegraphed, via Russia's Defense Ministry spokesman Major-General Igor Konashenkov, there will definitely be "consequences" for imposing a "shadow" hot war.
El Jefe de Pentágono, Ash Carter, un neocon certificado, ha amenazado con "consecuencias", como "posibles" ataques contra las fuerzas del ejército árabe sirio (SAA) para "castigar al régimen" después de que el Pentágono rompió el alto el fuego Kerry-Lavrov. El Presidente Obama se tomó un tiempo para evaluar todas sus opciones. Y al final, él retrocedió.
Por lo que corresponderá a los virtualmente electos – por el establecimiento de los Estados Unidos — Hillary Clinton para tomar la fatal decisión. Ella no podrá crear una zona de exclusión aérea – porque Rusia ya la ha creado. Y si ella decide "castigar al régimen", Moscú ya ha telegrafiado, a través del portavoz del Ministerio de defensa de Rusia el General Igor Konashenkov, que definitivamente habrán "consecuencias" para la imposición de una guerra caliente en "la sombra".
Sun Tzu doesn't do first-strike
Washington, of course, reserves for itself a "first-strike" nuclear capability, which Hillary Clinton fully supports (Donald Trump does not, and for that he's also demonized). If we allow the current hysteria to literally go nuclear, then we must consider the matter of the S-500 anti-missile system – which effectively seals Russia's air space; Moscow won't admit it on the record because that would unleash a relentless arms race.
A US intel source with close connections to the Masters of the Universe but at the same time opposed to Cold War 2.0 as "counter-productive", adds the necessary nuance: "The United States has lost the arms race, indulging in trillions of dollars of worthless and endless wars in Afghanistan, Iraq, Syria, Libya, and now is no longer a global power as it cannot defend itself with its obsolete missiles, THAAD, Patriot and Aegis Land Based Ballistic Defense System, against Russian ICBMs, even as the Russians have sealed their airspace. The Russians may be as much as four generations ahead of the US." 
Sun Tzu no pega primero
Washington, por supuesto, se reserva para sí mismo la capacidad nuclear de "pegar primero", eso es totalmente compatible con Hillary Clinton (pero no para Donald Trump, y es por eso que también él es demonizado). Si permitimos que la actual histeria literalmente llegue a un ataque nuclear, entonces debemos considerar el sistema antimisil S-500 – que sella eficazmente el espacio aéreo ruso; Moscú no va a  admitirlo oficialmente pues ello desencadenaría una implacable carrera armamentista.
Una fuente de inteligencia estadounidense  con estrechos nexos con  los amos del universo pero a la vez opuesta a la guerra fría 2.0 por considerarla "contraproductiva", añade el matiz necesario: "Estados Unidos ha perdido la carrera armamentista, gastando billones de dólares en inútiles e interminables guerras en Afganistán, Irak, Siria, Libia y ahora ya no es una potencia mundial pues no puede defenderse con sus misiles obsoletos , y los sistemas de defensa terrestres anti misiles THAAD, contra los misiles balísticos intercontinentales rusos, ya que  los rusos han cerrado su espacio aéreo. Los rusos pueden estar hasta cuatro generaciones adelante de los Estados Unidos".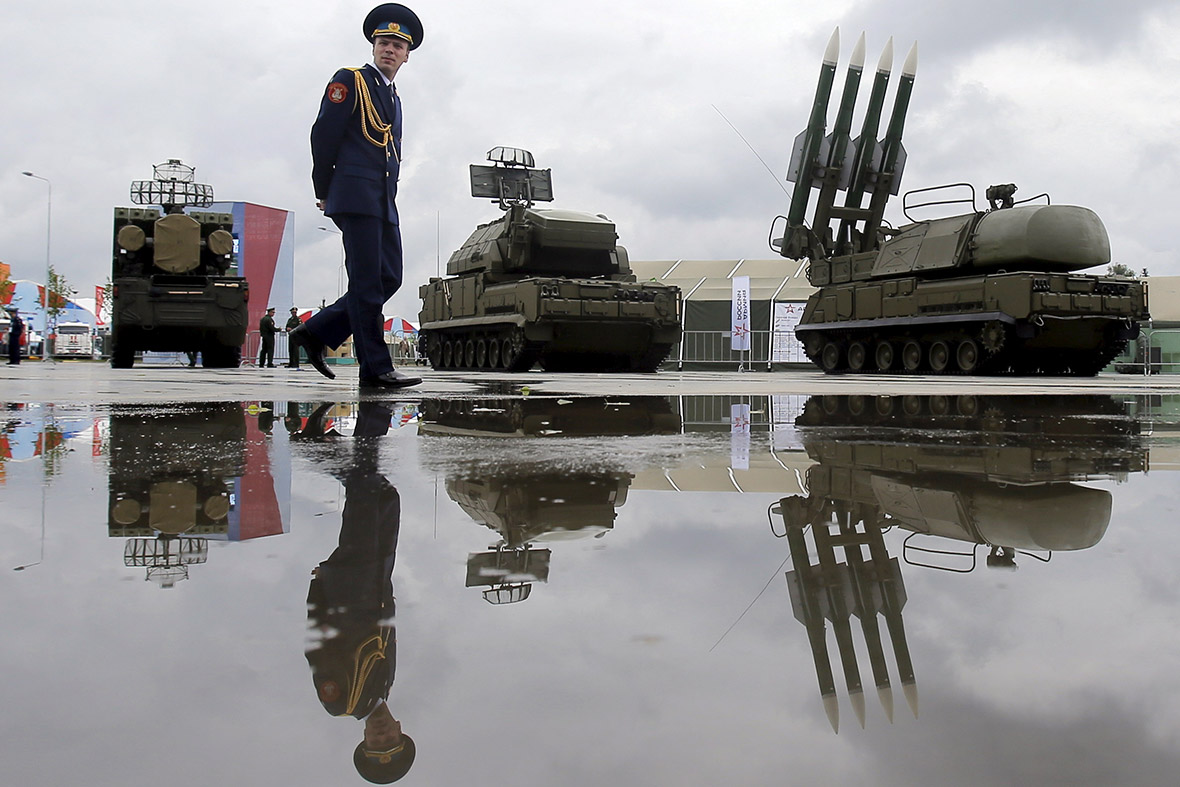 Moreover, in the deep recesses of shadow war planning, the Pentagon knows, and the Russian Defense Ministry also knows, that in the event some Dr. Strangelove launched a nuclear preemptive strike against Russia, the Russian population would be protected by their defensive missile systems – as well as nuclear bomb shelters in major cities. Warnings on Russian television have not been idle; the population would know where to go in the – terrifying — event of nuclear war breaking out.
Needless to add, the ghastly possibility of US nuclear first-strike turns all these WWII-style NATO war games in Eastern Europe into a pile of meaningless propaganda stunts.
 Además, en lo profundo de la planificación de guerra en la sombra, el Pentágono sabe, y el Ministerio de defensa ruso también sabe, en caso que algún Dr. Strangelove lanzara un ataque preventivo nuclear contra Rusia, la población rusa estarían protegida por sus sistemas de misiles defensivos, así como por sus refugios anti bomba nuclear en las principales ciudades. Los avisos en la televisión rusa no han sido en vano; la población sabría a dónde ir en el aterrador — caso de guerra nuclear.
No hace falta añadir, que la espantosa posibilidad de un primer-ataque nuclear de Estados Unidos convierte a todos estos juegos de guerra de la  OTAN al estilo de la Segunda Guerra Mundial en Europa del Este en un montón de trucos de propaganda sin sentido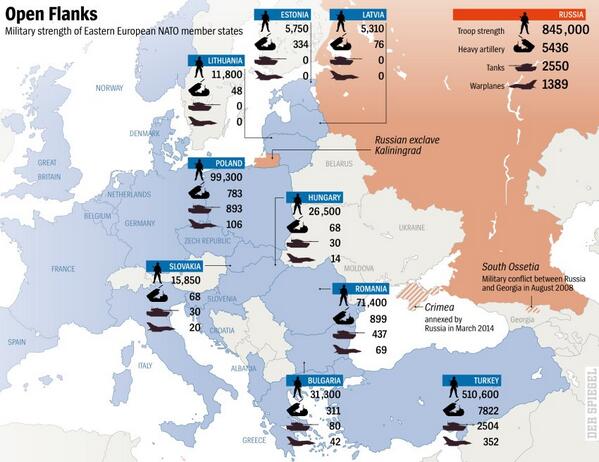 So how did Moscow plan for it all? According to the US intel source, "they took out almost all the military budget from their stated federal budget, lulling the West into thinking that Russia could not afford a massive military buildup and there was nothing to fear from Russia as they were finished as a world power.
The [stated] military budget was next to nothing, so there was nothing to worry about as far as the CIA was concerned. If Putin showed publicly his gigantic military buildup, the West could have taken immediate remedial actions as they did in 2014 by crashing the oil price."
Así que ¿Como planeo Moscú todo eso? Según la fuente de inteligencia de Estados Unidos, "ellos excluyeron todo el presupuesto militar de su presupuesto federal haciendo pensar a Occidente que Rusia no podía costear una acumulación militar masiva y no había nada que temer de Rusia pues estaban acabados como una potencia mundial.
Desde el punto de vista de la CIA el presupuesto militar [declarado] era casi nada, así que no había nada de que preocuparse.  Si Patín hubiera mostrado públicamente su gigantesca acumulación militar, Occidente podría tomado acciones correctivas inmediatas como  hiciera en 2014 derrumbando el precio del petróleo."
The bottom line then would reveal the Pentagon as totally unprepared for a hot war – even as it threatens and bluffs Russia now on a daily basis; "As Brzezinski has pointed out, if this is the case it means the US has ceased to be a global power. The US may continue to bluff, but those that ally with them will have nowhere to go if that bluff is called, as it is being now called in Syria." 
 Queda claro que el Pentágono no esta preparado para una guerra caliente – incluso cuando amenaza y blofea a Rusia todos los días; "Como Brzezinski ha señalado, si es así significa que Estados Unidos ha dejado de ser una potencia mundial. Estados Unidos pueden seguir blofeando, pero aquellos que se alían con ellos no tendrán a dónde ir si se responde al blofe, como ocurre ahora en Siria".
The US intel source is adamant that "one of the greatest military buildups in history has taken place right under the nose of the Russian Central Bank head Elvira Nabiullina and the Russian Ministry of Finance while the CIA awaits what they think will be the inevitable Russia collapse.
La fuente de inteligencia de Estados Unidos está convencida de que "una de las mayores acumulaciones  militares en la historia ha ocurrido en la mera nariz de la titular del Banco Central ruso Elvira Nabiullina y el Ministerio de Finanzas de Rusia mientras que la CIA espera lo que ellos consideran será el inevitable colapso de Rusia.
The CIA will be waiting forever and eternity for Russia to collapse. This MGB maneuver is sheer genius. And demonstrates that the CIA, which is so drowned by data inputs that they cannot connect the dots on anything, must be completely reorganized. In addition, the entire procurement system of the United States military must also be reorganized as it cannot ever keep up if new weapon programs as the F-35 take twenty years to develop and then are found obsolete before they even enter service.  The Russians have a five-year development program for each new weapons system and they are far ahead of us in every key area."
La CIA estará esperando para siempre el colapso de Rusia. Esta maniobra MGB es verdaderamente genial. Y demuestra que la CIA, que esta tan asfixiada con tanta información que tiene acumulada que no se puede atar cabos sobre nada, debe ser totalmente reorganizada totalmente. Además, el sistema completo de adquisiciones de las Fuerzas Armadas de los Estados Unidos ya que nunca puede darse cuenta que programas de armamentos como el del  F-35 tardan veinte años en desarrollarse y resultan obsoletos antes de entrar en operaciones. Los rusos tienen un programa de desarrollo de cinco años para cada nuevo sistema de armamentos y están adelante de nosotros en cada área clave."
If this analysis is correct, it goes against even the best and most precise Russian estimates, according to which military potential may be strong, asymmetrically, but still much inferior to US military might.
Well-informed Western analysts know that Moscow never brags about military buildups – and has mastered to a fault the element of surprise. Much more than calling a bluff, it's Moscow's Sun Tzu tactics that are really rattling loudmouth Washington.                                                                                                                                       Si este análisis es correcto, va en contra incluso las mejores y más precisas estimaciones sobre las capacidades rusas, según las cuales el potencial militar asimétrico puede ser fuerte, pero todavía muy inferior a la capacidad militar de EEUU.                                                                                                                                      Analistas occidentales bien informados saben que Moscú nunca se jacta de acumulaciones militares – y ha dominado al extremo el elemento sorpresa. Y  más que enfrentar el blofe, son las tácticas de Sun Tzu de Moscú las que confunden realmente al bocón de Washington.