La Amenaza de Guerra de EEUU contra Rusia
By Finian Cunningham
June 22, 2016
Fuentes: "Information Clearing House" – "Sputnik" –  Russian President Vladimir Putin's comparison of increasing US-led NATO aggression towards Russia to the attack by Nazi Germany on the Soviet Union is advisedly apt.
La comparación que hace el presidente ruso Vladimir Putin de la agresión de la OTAN liderada por Washington con el ataque que hiciera la Alemania Nazi contra la Unión Soviética es adecuada.
Putin was addressing the Russian State Duma this week on the occasion 75 years ago when the Nazi Third Reich launched Operation Barbarossa on June 22, 1941.
Putin hizo sus comentarios cuando hablaba ante el parlamento esta semana con motivo del 75 aniversario de la Operacion Barbarossa del Tercer Reich Nazi en 22 de junio de 1941.
Nazi Germany's aggression, which led to the Great Patriotic War in which up to 30 million Soviet citizens lost their lives in order to gain victory against that fascist power, was at bottom an attack by Western imperialism. As Putin reminded, this fundamental fact is often omitted in Western commentary.
La agresión de la Alemania Nazi, que requirió la muerte de como 30 millones de ciudadanos soviéticos para obtener la victoria contra el poder fascista, tenia de fondo un ataque del imperialismo occidental.  Y como dijera Putin, ese hecho fundamental es frecuentemente omitido en el comentario occidental.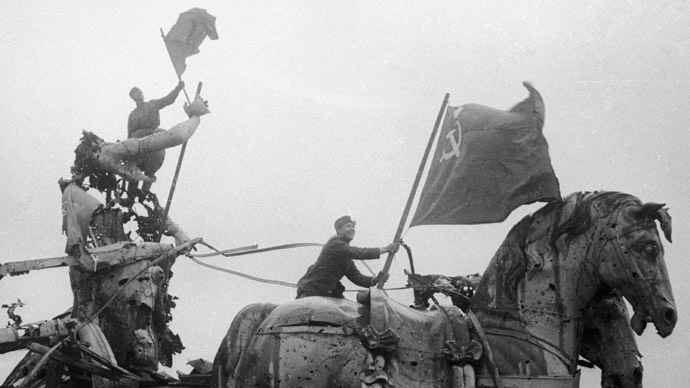 In that way, the significance of NATO's current military buildup – what else is that but aggression? – on Russian territory is all too often absent in Western media. And, by extension, Western public appreciation is lacking on how sinister the unfolding situation is.
En ese sentido, el significado de la actual concentración de armamentos de la OTAN—? Acaso no es una agresión?—contra el territorio ruso y es frecuentemente omitido en la prensa occidental.  Y por extensión, la falta de entendimiento del público occidental sobre cuan siniestra es la situación actual.
Russia's history over centuries is replete with examples of where Western imperialist powers have tried – and failed – to subjugate Russia with military attack from its Western flank.
La historia de Rusia a través de los siglos esta repleta de ejemplos de como las fuerzas imperiales occidentales han tratado—y fracasado—en subyugar a Rusia con ataques militares desde su flanco occidental.
It is consistent with historical precedent that Putin should describe "increasing aggression" by the American-led NATO military alliance in the same context as the repugnant Nazi assault on Russia.
Es consistente con el precedente histórico que Putin describa "la creciente agresión" de la alianza militar de la OTAN liderada por Washington en el mismo contexto del repugnante asalto Nazi contra Rusia.
The burgeoning US-led aggression towards Russia – in the form of provocative political campaigns to demonize and vilify with false accusations, economic sanctions and the spurning of diplomacy and dialogue, as well as the expansion of military forces, including the deployment of missile systems – is in a long, reprehensible tradition of Western belligerence towards Russia, going back to, among others, French emperor Napoleon Bonaparte and German Fuhrer Adolf Hitler.
La pujante agresión liderada por EEUU contra Rusia—expresada a través de campañas políticas provocativas para satanizar y vilificar con acusaciones falsas, sanciones económicas y rechazando la diplomacia y el dialogo, como también la expansión de fuerzas militares, incluyendo el despliegue de sistemas de misiles—eso es parte de una larga , reprobable tradición de beligerancia occidental hacia Rusia, que se extiende al pasado por mencionar algunos, al emperador francés Napoleón Bonaparte y el Further Alemán Adolfo Hitler.
This congenital aggression towards Russia stems from the dynamic of the Western economic system of capitalism, which in turns begets imperialism as its necessary tool for expropriating natural resources and subjugating foreign nations.
Esta innata agresión hacia Rusia parte de la dinámica del sistema económico capitalista occidental, que a su vez sirve al imperialismo como herramienta necesaria para expropiar recursos naturales y subyugar a otras naciones.
Russia is not the only target of Western aggression, of course. But the largest nation by land mass on Earth is and always has been a prime target.
Por supuesto que Rusia no es el único blanco de agresión occidental. Pero la nación con la más grande masa territorial en el planeta es y siempre ha sido un blanco prioritario.
The little-known historical record – at least in Western media – is that Nazi Germany was fomented by American and British capitalism as a proxy with which to vanquish the Soviet Union. The subsequent Western alliance with Soviet Russia to defeat Nazi Germany was merely a cynical damage-control move by the Western powers who were witnessing their Nazi attack dog being muzzled and liquidated.
Un dato poco conocido—cuando menos en los medios occidentales—es que la Alemania Nazi fue fomentada por el capitalismo Británico y Estadounidense como una fuerza Proxy para derrotar a la Unión Soviética.  La subsiguiente alianza con la Rusia Soviética para derrotar la Alemania Nazi fue meramente un acto de control de daños por parte de las fuerzas occidentales quienes miraban como su perro de ataque Nazi estaba siendo amordazado y aniquilado.
How could anyone who has a sound understanding of history – as opposed to the anesthetizing non-history common in the West – be not perplexed by the current US-led military menace on Russia's Western flank?
? Como puede una persona con buen entendimiento de la historia—contrario al anestesiante inhistórico que se acostumbra en occidente—no estar perplejo por la actual amenaza militar en el flanco occidental de Rusia?
It should be a matter of deep concern that even Germany's foreign minister Frank-Walter Steinmeier last week denounced the largest-ever NATO war exercises being conducted in Poland as "warmongering".
Debería ser de profunda preocupación que hasta el Ministro de Relaciones Exteriores de Alemania Frank-Walter Steinmeier caracterizara la semana pasada las  maniobras militares mas grandes de la historia realizadas por la OTAN  en Polonia como "actos belicistas."
What underscores the alarm is that Washington and certain NATO allies are pushing this confrontational agenda without the slightest discussion in Western media or among the Western public. As President Putin pointed out, people in the West are oblivious to the dangers of potential global war because the Western media is committing a huge disservice by not informing accurately on developments.
Lo que enfatiza la alarma es que EEUU y ciertos países miembros de la OTAN están presionando por una agenda confrontacional sin siquiera tener una discusión en los medios o entre el publico occidental. Como anotara el presidente Putin, la gente de occidente esta ajena al peligro de una guerra global potencial porque los medios están perjudicando al pueblo al no informarle adecuadamente sobre lo que ocurre.
There are any number of flash-points where NATO's military could combust into all-out war with Russia. The Baltic region, Eastern Europe, Ukraine, the Southern Caucus region, or the Black Sea where US warships continue to penetrate in violation of international treaties. Certainly, historical precedent strongly suggests this geographical swathe.
Hay varios puntos del globo donde los militares de la OTAN pudieran enfrentarse en guerra abierta con Rusia.  La región del Báltico, Europa del Este, Ucrania, la parte sur de los Caucasos, o en el Mar Negro, donde los barcos de guerra norteamericanos continúan penetrando en violación de tratados internacionales.  Ciertamente, el record histórico sugiere este entorno geográfico.
As the US presidential election swings towards Democrat contender Hillary Clinton, that portends ominously for relations with Russia. It was Clinton who as Secretary of State in the first Obama administration in 2009-2013 plunged bilateral relations into the freezer and who set the course for the present geopolitical tensions.
Mientras que la elección presidencial se inclina a favor de la postulante Hillary Clinton, eso augura relaciones distantes con Rusia.  Fue Clinton que como Secretaria de Estado en la primera gestión de Barack Obama (2009-2013) enfrió las relaciones bilaterales y enfilo el rumbo a las actuales tensiones geopolíticas.
Of further concern is Clinton's likely selection to head the Pentagon
. It is hotly tipped that Clinton will appoint Michele Flournoy as the first female Secretary of Defense. Flournoy (56) is a prominent Pentagon insider, with close links to the military and CIA. We can be sure that this duo will keenly push a bellicose agenda towards Russia.
Otra preocupación es la posible selección que haga Clinton para titular del Pentágono.  Se habla con certeza del nombramiento de Michele Flournoy como la primera mujer Secretaria de Defensa. Flournoy forma parte del circulo interno del Pentágono, con nexos estrechos a los militares y a la CIA.  Podemos estar seguros que el dúo se inclinara por una agenda belicosa hacia Rusia.
Only last week, Flournoy made strident calls for increased US military intervention in Syria. She wants to deploy large numbers of American troops and openly use military force to topple the Syrian government of President Bashar al-Assad.
Solo la semana pasada, Flournoy hizo estridentes llamados por una creciente intervención militar en Siria.  Ella quiere desplegar grandes cantidades de soldados norteamericanos y hacer uso abierto de la fuerza militar para derrocar al presidente sirio Bashar al-Assad.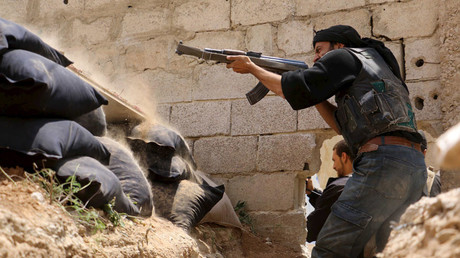 Under Obama, regime change has been a covert enterprise through proxies such as Saudi Arabia, Turkey and a menagerie of terrorist militia. Under Clinton, the signs are that regime change in Syria will be made an overt military objective.
Bajo el gobierno de Obama, tumbar gobiernos ha sido un trabajo clandestino a través de proxis como Arabia Saudita, Turquía y una colección de milicias terroristas. Bajo Clinton, todo parece indicar que derrocaran el gobierno en Siria con el uso abierto de los militares.
Flournoy is calling for the use of cruise missiles to hit Assad targets, including those of allied Russian forces in Syria.
"If you bomb the folks we support, we will retaliate using standoff means to destroy [Russian] proxy forces, or, in this case, Syrian assets," she told the military publication Defense One.
Flournoy esta pidiendo el uso de misiles cruceros para atacar blancos de Assad, incluyendo soldados rusos aliados dentro de Turquía.
"Si tu bombardeas a los que nosotros apoyamos, nosotros retaliaremos usando medios a nuestro alcance para destruir fuerzas (Rusas) Proxy, o en este caso, aliados de Siria," declaro Flournoy a la revista de defensa Denfense One.
 Flournoy said the US should jettison the pretense of fighting terror groups, and instead direct its efforts to remove Assad from power in Syria.
Flournoy dijo que EEUU debe olvidarse de la pretensión de que esta luchando contra grupos terroristas, y dirigir sus actos a la remoción de Assad de la presidencia.
In blatant contravention of international law and UN resolutions on Syria, the probable next White House administration is declaring war on Syria. Such a move is an unabashed aggression towards Russian strategic interests and calculated explicitly with military strikes on Russian forces in Syria. In short, a wider war with Russia.
Una abierta violación de las leyes internacionales y de resoluciones sobre Siria que han sido aprobadas en la ONU, la posible próxima administración en la Casa Blanca declarara la guerra contra Siria.  La acción seria una burda agresión contra los intereses estratégicos de Rusia y calculada con bombardeos explícitos contra soldados rusos en Siria. En resumen, una escalada de guerra contra Rusia.
Whether the Middle East proves to be the flash-point of American aggression towards Russia remains to be seen over the coming months. But one thing seems irrefutably clear by now. Washington is already on the path of war.
Todavía esta por verse si en los próximos meses el Medio Oriente será el punto de agresión de EEUU contra Rusia. Pero una cosa es clara ahora.  Washington ya esta en camino a la guerra.
An American war on Russia is looming. Maybe the people of the US and Europe can stop that outcome by threatening political ad social revolt, on the streets if necessary since the electoral process seems to be stacked against the democratic will.
Una guerra de EEUU contra Rusia es posible. Quizás la gente estadounidense y europea pueden pararla amenazando con una revuelta social, y en las calles si es necesario ya que el proceso electoral parece estar en contra de la voluntad democrática.
Finian Cunningham has written extensively on international affairs, with articles published in several languages. He is a Master's graduate in Agricultural Chemistry and worked as a scientific editor for the Royal Society of Chemistry, Cambridge, England, before pursuing a career in newspaper journalism. Finian Cunningham ha escrito extensivamente sobre cuestiones internacionales y sus artículos han sido publicados en varios idiomas.  El tiene una maestría en Agricultura Química y trabajo como editor científico en la Sociedad Real de Cambridge, Inglaterra, antes de tomar su carrera periodista.
He is also a musician and songwriter. For nearly 20 years, he worked as an editor and writer in major news media organizations, including The Mirror, Irish Times and Independent.  El es compositor y músico. Por casi 20 años ha fungido como editor y escritor en prominentes medios incluyendo The Mirror, Irish Times y El Independiente.
Puedes leer el artículo completo visitando este lugar/You can read the entire article here: http://www.informationclearinghouse.info/article44944.htm